In Pursuit of Silence (2016)
where to watch
• North American Sales: Cinema Guild
• International Sales: Ro*co Films
• Educational Sales: Transcendental Media
"Half visual essay, half verbal investigation, "Silence" is thoughtful and informative as well as contemplative and restorative. It both tells you why you perhaps yearn for silence and shows you what it would look like if you could find it."

Kenneth Turan | Los Angeles Times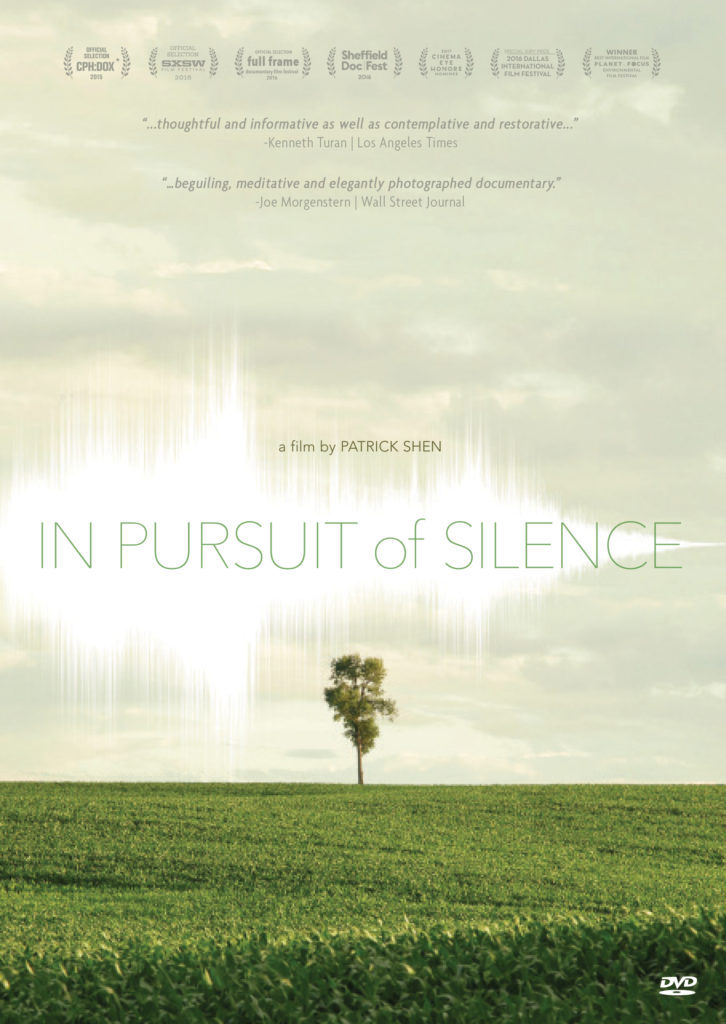 "…this elegant sermon by Patrick Shen on why we should dial down the racket of our daily lives will make you consider turning off and tuning out."
–Jeannette Catsoulis | New York Times

"I am undone by this film… Shen's In Pursuit of Silence incessantly inspires and sometimes takes the breath away and can even accomplish both at once."
–Austin Chronicle

"★★★★ — very persuasive"
–Peter Bradshaw | The Guardian

"As much a visual treat as an aural one, the film divides its time between using the tools of cinema to isolate and enhance the beauty of sounds and silence and exploring different schools of thought on the subject."
–Scott Tobias | NPR
about the film
Beginning with an ode to John Cage's seminal silent composition 4'33", the sights and sounds of this film delicately interweave with silence to create a contemplative and cinematic experience that works its way through frantic minds and into the quiet spaces of hearts. As much a work of devotion as it is a documentary, In Pursuit of Silence is a meditative exploration of our relationship with silence and the impact of noise on our lives. From the Desert Fathers and mothers of the third century AD who became a model for early Christian monasticism to John Cage's 4'33" which would go onto inspire a generation of artists, humankind has had a long fascination with silence. Yet in our race towards modernity, amidst all the technological innovation and the rapid growth of our cities, silence is now quickly passing into legend. From causing aggressive behavior to hundreds of thousands of heart attacks around the world, there is no aspect of human life that noise does not infringe upon. Silence as a resource for respite and renewal from the sensory onslaught of our modern lives is now more important than ever before.
the team
Directed by Patrick Shen
Produced by Andrew Brumme, Patrick Shen, Brandon Vedder
Cinematography by Patrick Shen, Brandon Vedder
Edited by Patrick Shen
release
• Opened in theaters in the U.S., U.K., Belgium, Netherlands, Germany, Japan, Switzerland, Austria, and Luxembourg in 2016-2018.
• Now available on iTunes, Vimeo on Demand, and DVD/Blu-Ray.
acclaim
"In Pursuit of Silence is a wonderfully shot film and one which is best experienced on a big screen where its images' composition and acute sound mixing can be fully appreciated." -Argun Ulgen | Pop Matters
"…one of the most truly meditative and deeply inventive films of the year." -Kate Erbland | IndieWire
"★★★★ — an elegant piece that will give you plenty to think about, if you ever get a quiet moment." -The Guardian
"★★★★ — fascinating" -The Times
"★★★★★ — Replete with imagery that shimmers with the kind of almost otherworldly wonder one might associate with a Terrence Malick movie… This film does more than just tell a story, it testifies to the sheer loveliness of anything — everything — when drenched in silence."
-Carl McColman | The Huffington Post
"★★★★★ — Simply watching it is a self-fulfilling prophesy, its gentle soundtrack creating one of the most blissful viewing experiences of the year." -City A.M.
"★★★★★ — A meditative study, both intriguing and frightening – as quiet contemplation becomes more of a rarity – In Pursuit of Silence raises awareness in hauntingly beautiful fashion. Strongly recommended." -Flickering Myth
"★★★★ — …I came away with the revelation that silence is its own language."
-Vulture Hound
"…a much-needed step towards a more sound-balanced world." -The Telegraph
"…a gorgeously rendered meditation on the role silence plays in our mental health." -Greg Hamilton | MovieMaker Magazine
"…this documentary is so replete with such well-composed cinematography and intriguing, occasionally worrisome ideas that it's a worthwhile, even necessary, watch…" -Craig Takeuchi | The Georgia Straight
"Shen details the myriad meanings and strange contradictions he found exploring the cultural, political and physical aspects of silence, and tries to explain what makes it such an appealing — yet uncomfortable — state to achieve and maintain." -Tom Roston | TED
"The documentary is engaging and thought-provoking throughout."
-New Scientist
"★★★★ — Here is an important piece with gorgeous visuals and thought provoking conversations…" -Screen Relish